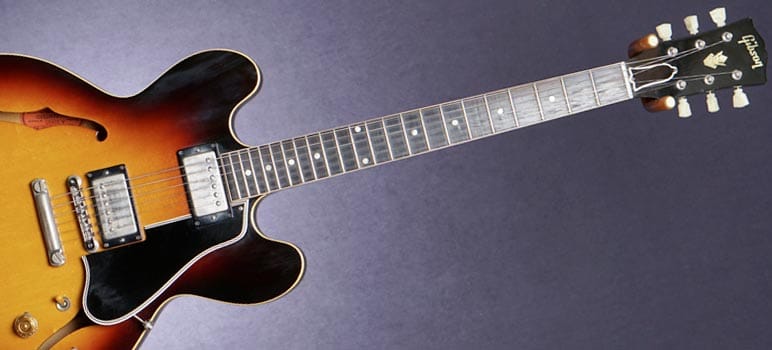 The Gibson ES 335 is a stand-out guitar, it was built originally in 1958 to bridge the gap between solid body and semi to create a different tone.
It is the choice of some phenomenal guitar players over the years, and although it is not the standard choice for rock players who cares, 'standard' never really meant much anyway, which is why Jazz players love the 335 due to its innovative design and great sound.
The Gibsons in this section include original vintage models, model variants, reissues and customs. There is also a search set up that covers pretty much all the parts that most people are looking for when fixing, customizing or building their own Gibson 335s. We hope that you enjoy this section as much as we did putting it together, and good luck finding that perfect ES 335.
Gibson ES-335 Sections: All ES-335s · History · Vintage · Custom & Reissued · Parts
Find Gibson ES 335 At eBay
Listed below are Gibson ES 335 available via eBay. Please note that Custom Vintage Guitar has no control over the items listed, you will need to deal with the individual ebay sellers yourself.
Gibson ES 335
Loading…
Click for more listings
Gibson ES-335 Sections: All ES-335s · History · Vintage · Custom & Reissued · Parts
Gibson Guitar Sections: All Gibson Guitars · ES-335 · Les Paul · SG · History